Fay Gillott believes internal marketing is as important as external marketing. Particularly so in the case of law firms and barristers chambers.

In fact she goes so far as to say the success of your external marketing depends on getting the internal bit right.
I caught up with Fay during the Hay Festival so I had a good opportunity to quiz her about her 20 years' experience as head of operations and business development in legal businesses. (In her time she has covered a variety, including a silver circle law firm, a patent attorney and two sets of barristers chambers.) She is famous for leading successful revenue enhancement and change management programmes, so when she offers her pearls of wisdom on the practical and tactical points that really make a difference between

"nice in theory"

and

"success in reality"

, you listen!
"The markets for legal services are more competitive than ever before. This means there is a need for a professional approach to marketing and more paid-for activity. But lawyers are "on a journey" to understand this."

[Nice euphemism Fay].

"Those who "get it", use marketing effectively, but with others you need to work hard to bring them along with your thinking. Internally lawyers put the barriers up: advertising is tacky, they say, and social media is not just tacky but dangerous too! It takes quite some persuasion to show that if these communication channels are used the right way, they are completely capable of communicating messages about the business's expertise, imparting knowledge and offering something serious and valuable, in a way that is wholly consistent with a top law firm / chambers brand."
I was particularly keen to hear Fay's thoughts on how the rise of social media as a mainstream channel is shaking up the professional services marketing mix, given the study on this topic Kysen is currently working on with New Law Journal.
"Many lawyers don't yet accept social media as a fact of business life. Some still dismiss it as merely something that students do, not believing that it projects a professional image. And with some the resistance is not just to Twitter and Facebook, but LinkedIn too. More are comfortable with LinkedIn, it has to be said, and some get professional help with their profiles and use their LinkedIn accounts for creating a regular blog. But Twitter is seen by many as a scary frontier to be avoided altogether. So you can see how much work there is to do in a firm or a set, to convince lawyers that a properly managed social media stream is necessary for the business, before you even get on to what they might do as individuals to support the corporate channel, eg posting and tweeting themselves."
This social media example is just one illustration of how the success of internal marketing directly impacts the effectiveness of the external effort: with everyone engaged and working together with the central marketing team, the traction in the external marketplace is going to be so much more. You can extrapolate from the following and apply the same principles across all the other areas of the marketing mix…
"Time needs to be set aside and sessions arranged to present the planned approach for how the business is to engage with their audiences through social media, using reasoned arguments and lots of evidenced examples as to why it is important and why the particular approach has been chosen. It needs to be an interactive session, so people engage properly, as this encourages buy-in. These sessions also need to cover what the role of individuals and teams is within the programme, so everyone is clear not only what the business-wide plan is, but what their own role is within this. And of course, very importantly, support needs to be offered, to skill up and encourage those individuals and teams as they give to the programme what is being asked of them.
"Once you've cracked this internal challenge, the rest of the marketing effort becomes easier. Not only is everyone in the business clear about what they need to do, but also the more understanding they have of the rationale behind the strategy of the professionals they employ, the more lawyers will listen to them and let them get on with their job! The sum total of all of this is that the marketing actually happens, rather than being half-done. Lawyers are always keen to ask about Return On Investment in marketing. To my mind, the most important factor in maximising the ROI, is making sure that that the marketing activity prescribed in the strategic plan actually happens in real life!"
From my own experience working 12 years in-house in law firms, I have to say I comple
tely agree: at the end of the day, strategy is delivered through people, and particularly so in a legal business. This is why investing time in making sure everyone is clear about the strategic plan for developing the business, and their role within it, will reap dividends.
***
A personal highlight at the Hay Festival was Peep Show's Robert Webb talking about "How not to be a boy", promoting his book of the same name. He challenged the audience with some very interesting thoughts on the unhelpfulness of gender assumptions and how 'The Patriarchy' is as bad news for men as it is for women. I was inspired to buy the book and I read it in just three days. Very entertaining. A definite recommend. Favourite bit: his little daughter talking over the family breakfast table about

"the trick [she meant the patriarchy] that makes men sad and women get rubbish jobs."

That about sums it up in my book!
You can buy "How not to be a boy" here.
***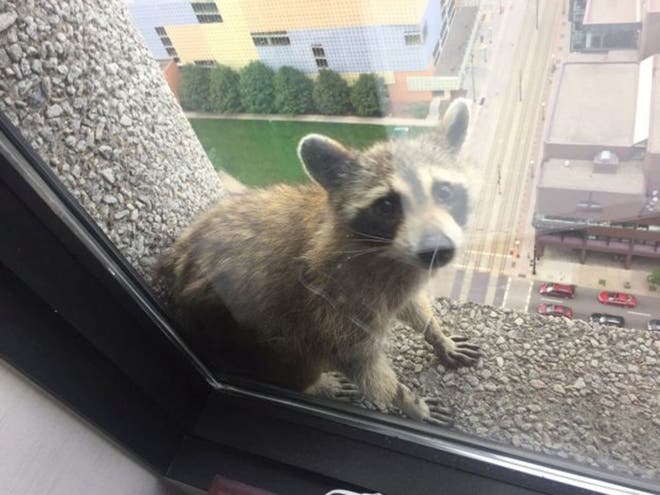 Here's Adele's favourite story of the week: the racoon that scaled a skyscraper in
Minnesota over a period of 20 hours.
"Just look at his little face"
, she says.
On a serious point, she went on to point out what it says about viral memes. This story was broken by a small local radio station and was soon livestreamed and was trending on Twitter (#mprraccoon) – all major news outlets covered it around the world (which is mad). It's interesting, she says, how the news agenda is set more than ever by what the people want, rather than what newspapers think people should know about.