Curious to know the secret of Law Firm of the Year

Osborne Clarke

's success?

Well, read on… I was lucky enough to be a guest of Managing Partner Ray Berg and his team at the Legal Business Awards in March and needless to say the emotion around the table was electric when the announcement came that they had won the evening's top prize. (I always consider the Law Firm of the Year accolade the equivalent of winning Best Picture at the Oscars.)
"I'd only been in the managing partner role for three days when the call came in from Legal Business to say we had been shortlisted, so I see this very much as a testament to all that my predecessor Simon Beswick" [now OC's International CEO]

"achieved in the 12 years before I took up the leadership mantle. And I guess I also see it as a clear marker in the ground for me, pinpointing where the journey starts as I step into the leadership role and take responsibility for guiding the firm into the future."
The Osborne Clarke team flew in to London for the Legal Business Awards on the Tuesday, direct from their annual partners strategy weekend which this year took place in Amsterdam. (Nice!) So I couldn't have picked a better time to be speaking to Ray about his reflections on Simon's legacy and his own plans for the future.
"Simon will tell you that the secret of Osborne Clarke's success is centred around embracing change. Not just accepting change, and knowing you have to adapt. But being positively excited about it and seeing it in terms of the opportunity it can bring, both corporately and individually. The firm's story over the past decade has been all about the decisive and darting moves we have made to improve market position, nipping into gaps in the market that have opened up as tectonic plates shift. When business life is static, you simply don't have the same opportunities opening up. It's the movement that creates the new spaces and then it's a matter of being bolder and quicker than competitors to jump ahead and make that land grab.
"10 years ago we were still essentially a Bristol and South West firm (albeit a regional leader) with ambitions to be taken seriously in the London market. Thanks to Simon's wise strategic vision, his sound management and his innate ability to bring everyone along with him in his thinking, today we are clearly recognised as one of the main, established players at the table UK wide."

[Indeed, the Law Firm of the Year award underlines this perfectly.]

"And not only have we come of age as a national firm, but we also have a serious international platform to take us into the future."
"Also, it was Simon who guided the firm in developing its distinctive sector-orientation. The Legal Business Award singled out our work on Smart Cities as a good example of our that approach: taking our deep understanding of the legal, regulatory and commercial imperatives in the sectors we work for, combining that with the current macro theme of urbanisation and knowing that you won't be able to build these smarter cities until digital business, finance, real estate, energy and transport all come together and buy in to that collective vision. If we get that right, then, for example, the UK can play a major role in helping India's Modi build the 100 smart cities he plans to create. Our campaign to date has been incredibly successful, in terms of developing our broader reputation, and in terms of bringing in new mandates. We believe that we're well placed to be at the heart of smart cities for years to come."
And on that subject, what of the firm's own future? Simon Beswick is clearly going to be a very hard act to follow and I am agog to know how Ray sees his mission.

"It's about building on this incredibly strong platform and making sure we make the most of the opportunity to really go for what we want. I need to be able to look back this time next year and know we made the most of our 12 months as Law Firm of the Year. And that we made it count for something tangible. For me there are three specific focus points: first, being sensitive to what clients really want and need. Generally the answer is they want more for less! And I firmly believe it's our challenge to find innovative and creative ways of being able to deliver this for them. Another part of Simon's legacy is that he made the firm proud of its entrepreneurial roots and its associated value-set, (so being confident in thinking differently, and come up with out-of-the-box solutions, be prepared to push boundaries, etc). And I think it's important that we keep and cherish this part of our culture as we continue to grow bigger and become ever more part of the legal establishment; second, we need to be highly attuned to what the people in our business want too (Generation Y is very different from Generation X and all the other generations that have gone before, with a different expectation about work/life balance, flexibility in the workplace and "partnership" not being the same unquestioned career destination that it once was). The third focus point is of course being profitable, as this is what gives us stability and security… and provides the strong base we can all use as our jumping off points.
"I want Osborne Clarke to be the law firm every business in our chosen marketplaces wants to be advised by, because of our famed client-centric approach and being so closely attuned to our clients' needs; and I want Osborne Clarke to be the law firm that every other lawyer wants to work at, so we can attract the best talent in the marketplace and keep on moving from strength to strength."
Ray said to me: this must be one of the few jobs in law firm management that anyone would like to have a go at. "It's a dream gig," he says. But Ray is the man who's been chosen for the role and I for one can see that Osborne Clarke is extremely lucky for that. Expect great things…
***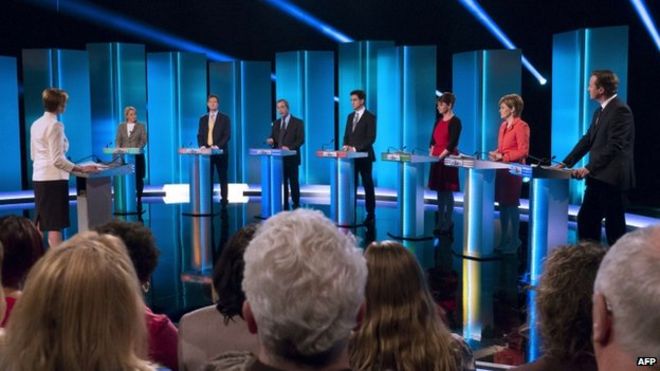 I don't know about you but personally I was transfixed by the TV leaders' debate.
It was a new experience, hearing from seven different parties, each given the same amount of airtime. I had previously thought Cameron's insistence on inviting so many to take part rather odd, at best. Seeing them all in front of me, the penny dropped: in this age of coalition politics it's as important to know what the marginal parties stand for as the main ones as you never know who's going to be invited to share power.
Fun poring over the polls after the debate too. Not just who had gained/lost in popularity, but which of the Magnificent Seven won in terms of the all-important "most new Twitter followers": Green Party leader Natalie Bennett. Cameron still leads by most followers over all, but the gaps are closing. We are certainly entering a new age in politics where the smaller parties are no longer necessarily on the margins.
Who do you think came off best?
***
If you missed the news that Blade Runner is showing in a cinema near you, take note now! This 1980s masterpiece has been remastered and re-cut to celebrate its 30th anniversary, so now even closer to director Ridley Scott's vision. I've seen this film at least 10 times (with various different endings) but this weekend was my first opportunity to see it on a big screen. I love it when cinemas show these golden oldies, particularly because it's perfect for inducting my kids into the film world's best. No matter my 19 year old asked me five minutes in "so were these effects considered state-of-the-art when Blade Runner first came out?", I myself was blown away.
Blade Runner is being screened across the country throughout April. Do be sure to catch it!