There's no doubt, Evening Standard court reporter Paul Cheston is one of journalism's best story-tellers, keeping up readers' interest in the Hacking trial as he reports from the court week in week out. I just love how the opening line of each of his news piece gets right to the heart of the most tantalising aspect. This is text-book story-telling at its best.
Look at these three openers just this week:
"A self-confessed phone hacker today told the Old Bailey how he was hired by editor Andy Coulson over a hotel breakfast of scrambled eggs and smoked salmon."
"Jude Law tells phone hacking trial of row with Daniel Craig over Sienna Miller affair…"
"A News of the World reporter signed a sworn statement claiming that he did not intend to hack interior designer Kelly Hoppen's mobile phone but had misdialed because of "sticky keys"…
And on other cases this week….
"A top investment banker and her stay-at-home husband are locked in an £11 million divorce battle following an argument on a family holiday…"
"Readers always like something new, so I'm conscious they will get bored and not bother with long running cases unless coverage is presented in a fresh way. The Phone Hacking trial is particularly long and drawn out, timetabled for at least six months, while most other trials can be measured in days or weeks. And reporting restrictions are exceptionally tight on this case, so there's no room for digressing into any interesting themes or issues raised beyond what is exactly said in front of the jury. The key to writing a different story each day is to find – hopefully - the bit that will catch the readers' eye and presenting it in a punchy, interesting way."
Paul is famous among court reporters for being the most experienced in the field. He's been working this beat for some 21 years and there's no-one better. Because of the Standard's early press deadlines, he's renowned for composing his stories in his head and then dictating them straight over the phone, rather than writing them down. That's some story-telling skill.
We've worked with Paul on a number of training assignments: media training for clients and good PR practice around court cases for our staff. And "story" is always at the centre of what he teaches.

"Focus on what people really want to read about. Take a look at your story and test it: Would you be interested if you read that in the paper? Have you the key angles upfront? Money always talks, so if there's a big sum involved, highlight it. Celebrity sells to Times readers as well as Sun readers. So too sex and football. The Evening Standard prides itself on its commitment to the arts but if there was a big-money court fight involving a kiss-and-tell between a footballer and a TV star, I would be expected to push women and children out of the way to get to it."
Paul must have worked on thousands of cases in his time, across all the London and surrounding courts, the Old Bailey, Rolls Building, Royal Courts of Justice, Southwark, Blackfriars, Snaresbrook and most of the crown courts in England, Wales as well as various trials abroad. Consequently there's no-one who understands reporting rules and contempt of court laws in practice better than him. He's also produced a book together with famed court artist Priscilla Coleman Court Scenes: The Court Art of Priscilla Coleman. But best of all, you can read him in the Evening Standard almost every day.
***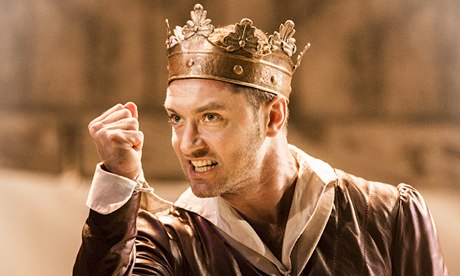 And the day Jude Law made his appearance in court happened to be the same date @Adele_Kysen had booked to see him in Henry V at the Noel Coward Theatre (just around the corner from our office). How would he recover from the clear emotional trauma of the day? Would the discovery of his relative's mercenary betrayal put him of his stride? I'm pleased to say, the following morning Adele reported his performance was flawless.
I saw him in this role myself at Christmas and he really is fantastic. One of those rare actors who can make Shakespearian sound like easy, colloquial English. He really stood out. He deserves his celebrity. Go Jude! You have fans here!
***
Remember "Pre-Crime"? Well apparently it's coming to London soon. Minority Report is one of my all time favourite films and it's central idea about using psychics to track down (and incarcerate) criminals before they commit a crime is an intriguing ethical point: if they've stopped before the crime is committed, how can they be criminals? What would this approach do to the presumption of innocence?
Based on a Philip K Dick short story (as so many of my favourite Sci-Fi films are), the plot twists on a "minority report" by one of three psychics that casts doubt on the judgment of one character's future crime. The Standard's Martin Bentham tells us that soon a new Met computer system will be used to predict where offenders will strike next, starting with a 3,500 pool of gang members. In the Hollywood version things didn't end well for the authorities. Perhaps I should send a copy of the DVD to the Met...