I never knew about RadcliffeLeBrasseur's David Hunt's secret film career. Like me he is a "vintage" legal marketeer and I have known him since the late 1980s we used to man neighbouring stands for our respective law firms at the Pub Club & Leisure Show in Birmingham's NEC. I remember now the Penningtons' balloons and the young "welcome" ladies in their logo'd t-shirts. In those days legal marketing didn't get much more exciting. But in all the (ahem) 25 plus years I've known him - he's since had roles at Berrymans Lace Mawer, Vizards, Price Bailey and now RadcliffesLeBrasseur - I had not a hint of his other life on the silver screen.
He is signed up to the Casting Collective, an agency that casts extras and every once in a while he'll be called to appear in a film. What a dark horse! A fitting moniker given his role in The Dark Knight - because we're not talking about obscure indie films here. Big blockbusters are much more his thing: The Golden Compass, Johnny English, you get the picture. A prize for the first person to pick out David's face from this Dark Knight clip and send me a still.
We met to reminisce over 20 years of legal PR, in the same week that Legal Business published its retrospective. Like me, his strongest suit in the legal marketing deck is communications and our philosophies have much in common:

"I have a particular beef about assumptions that sales and marketing is about talking. The gift of the gab etc. In my view it's far more about listening and this is where so many professional organisations go wrong,"

he tells me.

"It's as critical on the communications side: how can you know what messages to place if you haven't listened closely to your target audience? Your communications need to be finely tuned to

their

concerns. To what's keeping them awake at night. Delivering messages that get to the heart of what people are really bothered about is the best way to get their attention after all.
"And listening is just as important internally. It's key to successful collaboration with colleagues and team working"

(this echoes Neil Mullarkey's thoughts in The Conversation last week).

"It's particularly important in a partnership environment; you need to understand where different views are coming from so you can bring them all together into one strategy."

No wonder David has such good track record with the firms he's worked for, and retains friendships with so many partners and staff from his previous roles.
I have to confess though, once I stumbled across his "extra"-curricular hobby, all business chat was dropped! I wanted to hear all his stories: glimpsing Nicole Kidman and Daniel Craig In Real Life (still distanced by their entourages of course); about a sweltering afternoon's filming in Lincoln's Inn, buttoned up in velvet and fur Victorian garb for The Wolf Man.
What was the greatest fun he had? "That's a hard choice. It would have to be either at Brocket Hall playing a golfer for Rowan Atkinson's Johnny English, where my job was to sit outside drinking gin & tonic all day long. The scene took quite a few takes to perfect, I'm sad to say" he winks. "Or it would be one of my first, a role in Michael Winner's Parting Shots where I worked alongside a whole host of 60s and 70s stars: Oliver Reed, Diana Rigg, Gareth Hunt, Chris Rea. All I did was play a doctor opening a door for a (very young and forever pert) Felicity Kendal. Unforgettable!"
Well, as I often say, people can be so surprising. For a man who believes communication is key, David Hunt is very good at keeping a secret!
***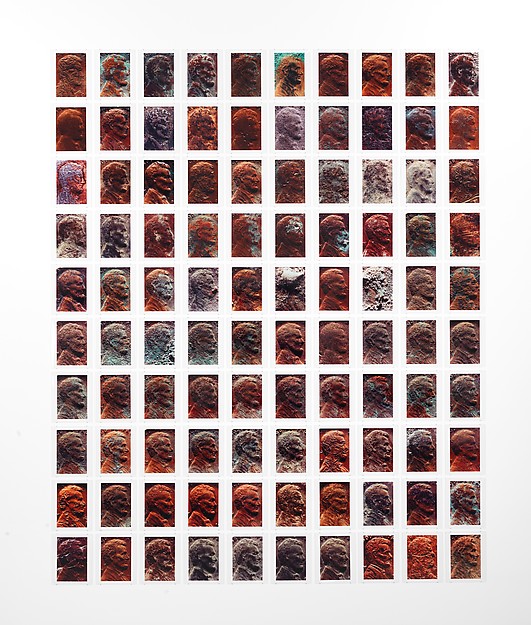 I have been thinking about money this week.

A trip up to Liverpool to see our friends at Weightmans provided the perfect opportunity to pop into the city's Tate at Albert Dock and catch photographer Moyra Davey's "Copperhead", part of her Hangmen of England exhibition. Copperhead Grid is inspired by the financial crisis and focusses on the devaluation of the British pound by profiling hundreds of old US pennies, in varying states of decay. She invites us to think about the psychology of money and "the varieties of decay brought about by the passage of time
"
. Deep stuff. Definitely thought-provoking.
And the connection to Hangmen of England? Well er... none really, apart from it's the title of just one book that appears in one photograph in another part of the exhibition. When quizzed the curator told us the exhibition arrived untitled and it was the Tate that suggested the headline. Well it got us through the door. That's smart communications for you!
***
And a similar money theme features heavily in Woody Allen's new film Blue Jasmine, which he has been plugging this week. The story explores meltdown of a New York socialite in the aftermath of the financial crisis. Reports so far are that it's Allen on absolutely top form. And of course Cate Blanchett (in the lead) rarely disappoints. I've marked the UK release date in my diary. 20 September, can't wait!